Engage and Interact
The Sensory Space is a comforting environment for young children to explore their personal sensory needs.  The sensory space will be open:
Mon, Oct 3, 3:00 p.m. – 6:00 p.m.
Tue, Oct 4, 10:00 a.m. – 3:00 p.m.
Wed, Oct 5, 3:00 p.m. – 6:00 p.m.
Planning Ahead is a 7-step program developed by the UW Madison Extension – St. Croix County. This class simplifies the process of getting your final wishes and care decisions managed in a logical, easy breakdown. Click here to register.
Join Mr. Daniel every Tuesday at 10:15 for story time! Each week we will be reading stories, singing songs, and having fun.  All ages are welcome.
Book Discussion
Join a lively discussion of literary fiction!  In October we are discussing 'The Things They Carried' by Tim O'Brien. The meeting will take place Wednesday, October 19th @1:30 p.m. at the library. Everyone is welcome!
Want to get your teen involved at the Library?  Need community service hours?  Our Teen Advisory Board meets once a month and is responsible for planning teen programs at the library.  Click here for more information.
Join us for movie showings on Tuesdays in October.  Pop and popcorn will be provided!
October 11 @5PM: Hocus Pocus
October 18 @5PM: Wallace and Gromit: Curse of the Were-rabbit
October 25 @5PM: Monsters, Inc.
Beginners Welcome!
Come play Mahjong every Wednesday from 1:00PM-4:00PM (except holidays) in the RCU Community room.
October 3 - October 31
Choose your Hogwarts House – Gryffindor, Hufflepuff, Ravenclaw, or Slytherin – and read!  Every minute you read earns a point for your house.  Reading logs available at the library.  Who will win the House Cup?
Build early literacy skills, earn fun prizes, and foster a love of reading!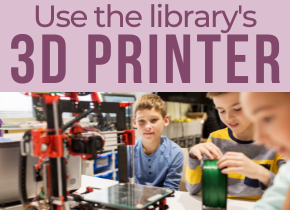 Find a design and fill out our online form to use the library's 3D Printer.  Create toys, tools, art, and more!  Click here to learn more.
Mr. Daniel, the Youth Services Librarian, has gone mad.  Now he's trapping patrons inside of the library!  Complete puzzles of logic and wit to escape his clutches.
After work, Mr. Daniel goes to a massive snow pile next to the library where he disappears for hours at a time. What could he be doing in there?